Surviving the World
A Photocomic Education by Dante Shepherd
Lesson #2776 - Pie III (Bracket Week VIII)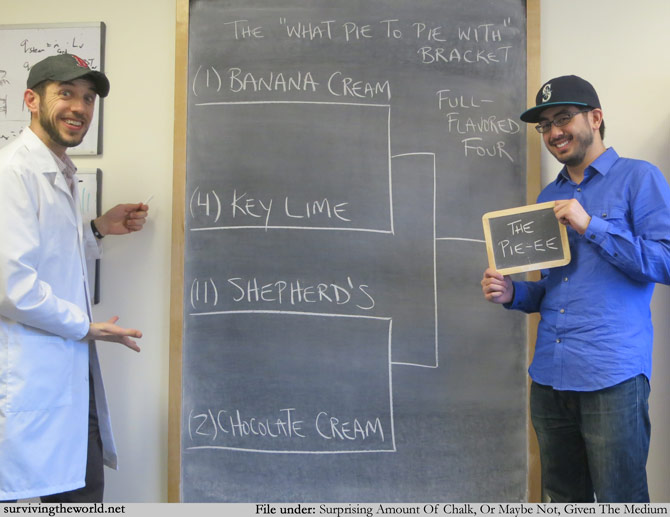 UPDATE: Jump here to get to the final round!
Your vote actually matters, so cast your votes wisely!
Hunter is back (wearing different clothes, thankfully) as we work our way through the pie bracket round by round to determine what type of pie I will be throwing in Hunter's face.
Well over a thousand votes were once again cast in the second round:
1-seed Banana Cream (57.0%) over 8-seed Strawberry Rhubarb (43.0%)
4-seed Key Lime (55.7%) over 12-seed Cherry (44.3%)
11-seed Shepherd's Pie (54.7%) over 3-seed Lemon Meringue (45.3%)
2-seed Chocolate Cream (53.3%) over 10-seed Chicken Pot Pie (46.7%)

So now we're to the Full-Flavored Four. There's only one Cinderella pie left, so do you jump on its bandwagon and push it to the final next week? Do you choose classic? Savory or sweet? It's a giant responsibility for you! Use it wisely! It's up to you!
We'll reveal the finals next week. In the meantime, do your civic duty and vote! And thank you!